Get The High-Quality Dental Care You Deserve
Our goal at Yukon Dentistry And Braces is to help our patients achieve and maintain amazing dental health. Our General Dentistry options will ensure that you and your family have healthy, lasting smiles. We offer the Yukon community everything from fluoride treatments to custom mouthguards for patients suffering from sleep apnea, and we would be honored to become part of your oral care routine!
Call us today or simply fill out the short form below and we'll reach out to you about your personal dentistry needs!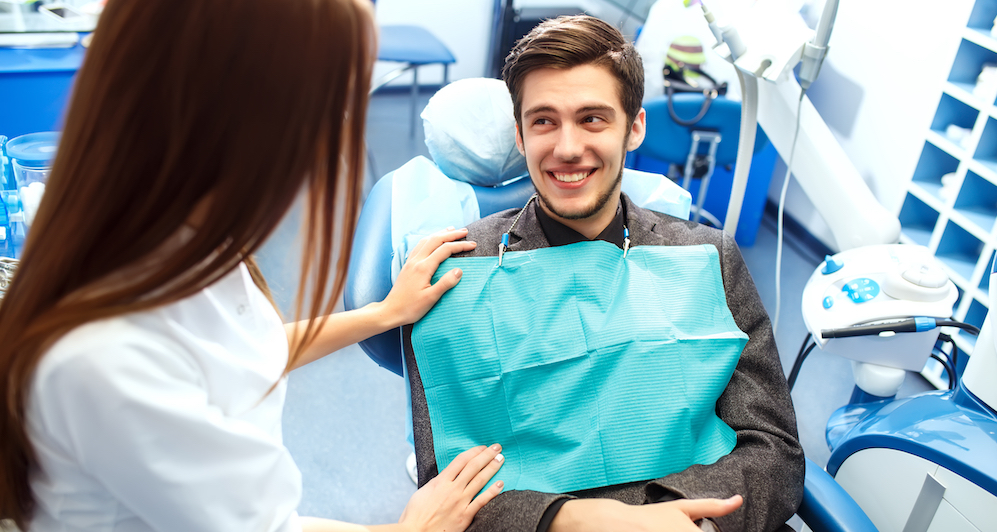 Love Your Dentist, Protect Your Teeth
Yukon Dentistry And Braces offers a diverse variety of options for building, protecting, and maintaining your oral health. We are proud to help our Yukon community create lasting oral health and enjoy the confidence that comes with the perfect smile. From pediatric care to temporomandibular disorder, our modern facility and knowledgeable staff can help you with all of your dentistry needs.
Keep Your Gums Healthy
The most mild form of gum disease is gingivitis. If your gums bleed when you brush or floss this is a sign of gingivitis. Gingivitis will leads to periodontitis, which is caused by the accumulation of plaque below the gums and can cause the the supporting structures around your teeth to resorb. Half of Americans over the age of 30 have some form of periodontal disease. Early intervention and regular cleanings are critical to stop the advancement of theses diseases. At Yukon Dentistry and Braces we offer variety of periodontal services from deep cleanings to implants to help ensure your smile lasts a lifetime. make sure to keep your smile healthy by keeping your gums healthy.
Pediatric Dental Care
We want to start your child off with good dental habits and show them the dentist doesn't have to be scary. We will look at their overall growth and development so that their permanent teeth come in correctly. We will also look at the current state of their teeth and treat any issues we see. Treating kiddos is much different than treating adults, and we will strive to make the process as painless as possible for both you, as the parent, and your child. One third of young children and one half of older children will have at least one cavity. It is important to get your kiddo's dental education and treatments started early, and regular dental visits are one of the best ways to make sure they have a smile that lasts a lifetime.
Get A Restful Night's Sleep
The major issue with snoring and sleep apnea is blockage of your airway. Sleep apnea has a myriad of negative health effects including decreased energy, weakened immune system, decreased mental capacity and more. CPAP machines are most often prescribed to treat sleep apnea. CPAP machines can be cumbersome, especially when traveling, and many patients do not tolerate them. At Yukon dentistry we offer an alternative to a CPAP machine by using a small dental appliance to open your airway naturally. With the combination of tests and advanced 3D imaging we are able to assess your airway, and provide the best possible treatment.
Tooth Extractions
Unfortunately, due to trauma, decay, or mobility some teeth are beyond saving and need to be extracted or pulled. We understand that losing a tooth can seem like a daunting procedure for patients, but we use profound anesthesia, atraumatic extraction techniques, and the option of sedation in order to make the procedure virtually painless and less traumatic. In most people extractions heal quickly, and any pain associated with the tooth is gone almost immediately after the extraction. The space created after an extraction can cause other teeth to shift and move. Before the extraction is started we will discuss all of the options in order to best close the space and allow you to continue to function normally. Generally in order to replace the missing tooth or teeth options include: dentures, implants, bridge, and some other options. If you now have or have had consistent tooth pain in the past that has gone, please make an appointment today so we can discuss the options that will best fit your needs.
Experience Yukon's Best General Dentistry Services Today!
Whether you're looking for a new dental office to care for you and your family, or you're suffering from TMD or sleep apnea, our team at Yukon Dentistry And Braces is happy to offer you quality solutions at affordable prices. We've helped dozens of families across Yukon enjoy brighter smiles and better oral health, and we can help you be proud of your smile again.
Call us or just fill out the short form below to get more information on how we can connect you with dental services that are right for you!